Member Centers Across Michigan
We have 28 full-service member center locations across the State of Michigan to meet all of your financial needs, from debt consolidation, to loans, mortgages, and saving for retirement. We have free WiFi in member centers and we offer complimentary coffee and water at every location. Most member centers have the ability to instantly issue new debit and ATM cards.* We also offer access to over 1,000 shared branch locations and over 40,000 affiliated ATMs nationwide. 
Locations
Across Michigan
Access To Free
Coin Counters
We have member centers in areas across Michigan, including Battle Creek, Kalamazoo, Grand Rapids, Southwest Michigan, and the Upper Peninsula.
Members have the option to schedule an appointment at any member center location. Avoid waiting in our lobby and meet with a team member for specific account needs and questions when it's convenient for you. Please note that appointments are not required for basic teller transactions.
Find a Surcharge-Free ATM
Need cash now? Visit any of our local member centers,* any of our local community ATMs (found below), or use the various links provided here to find a traditional surcharge-free ATM near you today!
Battle Creek
VA Medical Center, 5500 Armstrong Road
Benton Harbor
Pri-Mart Citgo, I-94 Exit 29 at Pipestone Road
Buchanan
Country Heritage Credit Union: 16580 Bakertown Road
Stevensville
Watermark Brewing Company: 5781 St. Joseph Ave
You have access to local Honor ATMs, and surcharge-free ATMs across the country through the CO-OP Network.
*The Baroda Member Center does not have an ATM.
Our ATM Video Teller machines allow us to provide face-to-face service for our members through the use of video technology. An Honor Team Member will help you conduct any of the financial transactions that you're used to performing through the drive-thru, right through the machine. An added bonus is these machines function like a regular ATM 24/7!
How Does A Video Teller machine work?
After pulling up to a machine, simply touch the screen to speak directly with one our real Video Tellers. They'll be happy to assist you with all of your transaction needs. Or, you can choose to use the ATM without assistance to: withdraw cash or make deposits without an envelope.
What Types Of Transactions Can I Do?
You can perform virtually any transaction that you normally would at any other member center's drive-thru via these machines, which include:
Make deposits
Make withdrawals
Cash checks
Transfer money
Make loan or credit card payments
Receive balance information
As a self-service option, you can also use the Video Teller machine as a traditional ATM, allowing you to perform financial transactions on your own without live assistance.
What Are The Hours Of A Video Teller Machine?
One of the biggest benefits that comes with our new ATMs is the expanded hours! The Live Teller feature is available:
Monday – Friday: 8:00 AM – 6:00 PM
Saturday: 9:00 AM – 12:00 PM
Please Note: Outside of the noted hours, you can perform the following transactions:
Make deposits
Make withdrawals
Deposit checks
Transfer money
Receive balance information
What Do Video Teller Machines Look Like?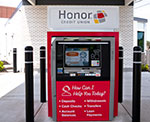 You will notice our Video Teller machines look very similar to traditional ATMs, but the screen will be interactive and you will have a live Honor team member assisting you right on the screen. Some new ATMs will be installed in the side of our member center buildings in the drive-thru.
Do you have a jar full of spare change sitting on a countertop or a cup holder full of change in your car? Honor members can use coin counter machines for FREE at the following member centers:
At Honor Credit Union, there's more than meets the eye when it comes to the number of ATMs and shared branching our members have access to thanks to Xtend Shared Branches and the CO-OP Network.
The CO-OP Network gives you surcharge-free access to 30,000 ATMs and 5,000 Shared Branches. This includes 9,000 deposit-taking ATMs, and more than 2,000 self-service devices at credit union branches.
Nationwide, there's a credit union where ever you go. Through Xtend Shared Branches, Honor members have access to do their financial transactions at various credit unions nationwide.