Honor Credit Union
Stevensville
5960 Cleveland Avenue
Stevensville, MI 49127
Monday – Tuesday – Thursday
9:00 AM – 5:00 PM
Wednesday
10:00 AM – 5:00 PM
Friday
9:00 AM – 5:30 PM
Saturday
Closed
Monday – Thursday
8:30 AM – 5:00 PM
Friday
8:30 AM – 5:30 PM
Saturday
9:00 AM – 12:00 PM
Note: ATM Live Teller service is available via drive-thru lane one from 8:00 AM – 6:00 PM Monday – Friday.

banking Services available
Our Stevensville Member Center provides a full-service banking experience. Our team is ready to provide you with a solution for financial success, including auto, home, and personal loans, two free checking accounts to choose from, deposit solutions that include savings accounts, high-interest money markets, and certificates of deposit.
Lobby & Drive-
Thru Service
say goodbye to your credit card debt
on transfers for 12 months*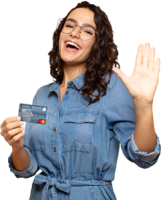 *As low as 4.99% APR promo rate applies to balance transfers of $500 or more to an Honor Credit Union Credit Card from a non-Honor Credit Union credit card. Purchases and cash advances excluded. Balance transfers must be completed by March 31, 2023. Promotional rate is valid for 12 billing cycles from posting date of first transfer, after which the introductory period ends, the standard purchase APR applies. Standard variable APR ranges from Prime Rate + 5.24% to 25.00%, based on your creditworthiness and other factors. Tiered introductory rate does not apply to business accounts. The annual percentage rate (APR) will vary with the market based on the current Prime Rate. New and current cardholders eligible. Existing credit card balances held at Honor CU cannot be refinanced to the promotional rate. Credit card approval depends on creditworthiness and other qualifications. Rates, terms and conditions are subject to change without notice. Insured by NCUA.
Directions To Member Center
Located across the street from Lakeshore High School and near the Post Office, this member center has a coin counter machine members can use for FREE.

Competitive Rates & Flexible Terms
Use the calendar below to schedule an appointment with a team member at this location to address specific questions and concerns about your account. By booking an appointment, you can avoid waiting in our lobby for the next available Honor team member.

We Have The Right Solution For You
"Everyone was very polite and knowledgeable. I transferred my high credit card to 12 month intrest free with no transfer fee. All straight forward and easy. Honor Credit Union is saving me a lot of money every month . So very happy I have switched all my banking to Honor Credit Union. 😊"
"The Honor CU difference is all about people helping people. Supporting and investing in the communities we serve and providing members with the solutions and guidance to achieve their own definition of financial success are just a few ways the Honor team lives that philosophy every single day."
"Stacy was incredibly helpful and professional. She went the extra steps of providing me information that would be helpful to my situation. Wonderful job and thank you!"
Deposit Interest Earned By Members In 2021
Donated In Support 421 Organizations In 2021
Pounds Of Paper Recycled At Shred Events In 2021
We invite you to come be part of an unconventional financial institution. What do we mean by that? Well, we do things a little different at Honor. You're not a number to us. You are a unique person with your own financial goals, and it's our promise to provide solutions for your financial success.
If you're a busy business owner and the only time you can meet is 7 a.m. at a rest stop, we can do that. If you're traveling and you lost your debit or credit card, no problem – just turn it off in our mobile app to avoid fraud. We're here to give you smart advice and make it a simple experience.