Honor Credit Union
Kalamazoo Connect Center
148 E Michigan Avenue
Kalamazoo, MI 49007
Mon – Tues – Thurs – Fri
9:00 AM – 5:00 PM
Wednesday
10:00 AM – 5:00 PM
*No Drive-Thru Service At This Location

banking Services available
Our Kalamazoo Connect Center is designed to be a versatile and collaborative space that can be used by our members for their business needs. Whether our members need to meet up with an Honor Team member or one of their own clients, the Connect Center will provide the space, innovative technology, and flexibility to serve as a landing point for those connections.
Community Meeting
& Work Space
Video Conference
Capabilities
say goodbye to your credit card debt
on transfers for 12 months*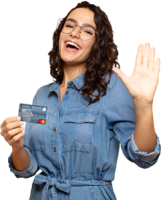 *As low as 4.99% APR promo rate applies to balance transfers of $500 or more to an Honor Credit Union Credit Card from a non-Honor Credit Union credit card. Purchases and cash advances excluded. Balance transfers must be completed by March 31, 2023. Promotional rate is valid for 12 billing cycles from posting date of first transfer, after which the introductory period ends, the standard purchase APR applies. Standard variable APR ranges from Prime Rate + 5.24% to 25.00%, based on your creditworthiness and other factors. Tiered introductory rate does not apply to business accounts. The annual percentage rate (APR) will vary with the market based on the current Prime Rate. New and current cardholders eligible. Existing credit card balances held at Honor CU cannot be refinanced to the promotional rate. Credit card approval depends on creditworthiness and other qualifications. Rates, terms and conditions are subject to change without notice. Insured by NCUA.
Directions To Connect Center
The Kalamazoo Connect Center is located at 148 E Michigan Avenue in downtown Kalamazoo. It's within walking distance of many downtown restaurants and businesses, including Stamped Robin, Benny DiCarta's Pizza, and more!

Competitive Rates & Flexible Terms
Our ATM Live Teller machines allow us to provide face-to-face service for our members through the use of video technology. Using an ATM Live Teller is like talking on a webcam or Facetiming with a friend, but in this case, you're talking with one of Honor's Virtual Member Specialists.
Monday – Friday: 8:00 AM – 6:00 PM
Saturday: 9:00 AM – 12:00 PM
Please Note: Outside of the noted hours above, you can perform the following transactions at an ATM Live Teller:
Make a deposit (cash or check)
Make a withdrawal
Transfer money
Receive account balance information
After pulling up to a machine in your vehicle, simply touch the screen to begin. You have two options:
Speak With A Live Team Member
Utilizing video and voice technology, a live Honor Team Member will help you with all of your transaction needs from the comfort of your vehicle.
Conduct A Normal ATM Transaction
If you don't need to speak to an Honor Team Member, you can conduct a normal ATM transaction and be on your way!
You can perform virtually any transaction that you would normally do at a drive-thru:
Make deposits
Make cash and coin withdrawals*
Cash checks
Transfer money
Make loan or credit card payments
Receive balance information
*Our ATM Live Teller machines aren't able to dispense coins, but if you would like to deposit coins, we ask that you visit the member center lobby during normal business hours. Some of our member center lobbies have coin counters, which makes it even easier

We Have The Right Solution For You
Use the calendar below to schedule an appointment with a team member at this location to address specific questions and concerns about your account. By booking an appointment, you can avoid waiting in our lobby for the next available Honor team member.

Virtual Member Center Info
We're here to answer questions about your account, open a loan & more!
Monday – Friday
8 AM – 8 PM
"The day I opened my Honor Credit Union account they found a way to save me around $100 a month instantly. I did not expect that. About a year later, I took advantage of one of their credit card transfer deals and saved my self an additional $140 a month for a whole year. I'm kicking myself for not making the switch to Honor Credit Union sooner."
"I'm proud to belong to Honor Credit Union. I've been a member for a few years now and I honestly couldn't be happier. It's so refreshing to work with a group that truly respects and cares about each of its members."
"I had an appointment to close out my deceased father's account. Leah was friendly, efficient, empathetic, and everything went incredibly smoothly. I had a variety of small transactions to complete before the closure and she sorted those out quickly to my benefit. I always find the staff here to be very pleasant and accomplished."
Deposit Interest Earned By Members In 2021
Donated In Support 421 Organizations In 2021
Pounds Of Paper Recycled At Shred Events In 2021
We invite you to come be part of an unconventional financial institution. What do we mean by that? Well, we do things a little different at Honor. You're not a number to us. You are a unique person with your own financial goals, and it's our promise to provide solutions for your financial success.
If you're a busy business owner and the only time you can meet is 7 a.m. at a rest stop, we can do that. If you're traveling and you lost your debit or credit card, no problem – just turn it off in our mobile app to avoid fraud. We're here to give you smart advice and make it a simple experience.