Stadium Drive Hours & Address
Monday – Tuesday
Closed
Wednesday
10:00 AM – 5:00 PM
Thursday
9:00 AM – 5:00 PM
Friday
9:00 AM – 5:30 PM
Saturday
Closed
Monday – Friday
7:00 AM – 7:00 PM
Saturday
9:00 AM – 12:00 PM
Monday – Tuesday – Thursday
9:00 AM – 5:00 PM
Wednesday
10:00 AM – 5:00 PM
Friday
9:00 AM – 5:30 PM
Saturday
Closed
Monday – Friday
7:00 AM – 7:00 PM
Saturday
9:00 AM – 12:00 PM
Honor Credit Union
Kalamazoo Stadium Drive
4400 Stadium Drive
Kalamazoo, MI 49008
We are now giving members the option to schedule an appointment with a team member for specific account needs and questions. Please Note: Appointments are not required for basic teller transactions.
banking Services available:
Our Stadium Drive location is designed to be a versatile and collaborative space that can be used by our members for their business needs. Whether our members need to meet up with an Honor team member or one of their own clients, the Stadium Drive location will provide the space, innovative technology, and flexibility to serve as a landing point for those connections.
Full-Service
Lobby With Coin Counter Machine
*New*
Drive-Thru ATM Live Teller Service
Community Meeting
& Work Space
We're excited to be growing in Kalamazoo, and we have a special offer for you. For a limited-time, open a new Honor checking account and add a direct deposit and we'll give you a $250 bonus!* Plus, bring your mortgage to Honor and get an additional $250!*  We invite you to come experience the Honor Difference for yourself! You're not a number to us. You are a unique person with your own financial goals, and it's our promise to provide solutions for your financial success. 
$500 Cash Bonus!*
Join the Honor fam with a new Honor checking account and add a direct deposit and we'll give you a $250 bonus!*
Plus, bring your mortgage to Honor and get an additional $250!*
*Primary residency must be within 50 miles of Kalamazoo, Mich. Checking Bonus: $250 paid when new or existing member opens a Benefits or Connect checking account with a minimum deposit of $25 and has at least one direct deposit that totals $100 per month. First direct deposit must be made within 60 days of checking account opening. Bonus will be paid within 30 days of direct deposit posting to new account. New account must remain open and maintain a positive balance for at least 90 days. If criteria is not met, $250 bonus will be withdrawn from account. New members must open account at honorcu.com/kalamazoo and primary address must be verified within 50 miles of Kalamazoo, MI. Existing members must present coupon at checking account opening in member center. Mortgage Bonus: Present this postcard at time of application.  Checking account with active direct deposit must be present on account to be eligible for $250 mortgage bonus. Home loan must be $60,000 or more.  New mortgage money only. $250 deposited into savings account after closing. Certain credit restrictions apply. Terms and conditions subject to change. Equal Housing Opportunity. Limit one $250 checking bonus and one $250 mortgage bonus per member. Honor employees and immediate family members ineligible. Offer subject to change without notice. This is a gift, please consult your tax advisor. Not valid with any other offer. Checking account must be opened and mortgage applications submitted by December 31, 2020. Insured By NCUA.
DIRECTIONS TO Member Center
Our new member center location will be located at 4400 Stadium Drive in Kalamazoo. The highly visible member center is surrounded by restaurants and businesses, including Arby's, Starbucks, Planet Fitness, and more.
Drive-Thru ATM Live Tellers
Our Stadium Drive Member Center features ATM Live Teller machines. These machines offer more services with expanded hours, so you can do more right from your vehicle when it's convenient for you.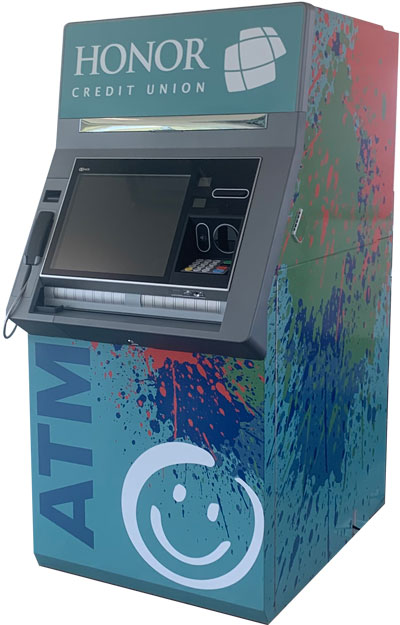 "I'm so happy that I switched to Honor. They saved me a bunch of money on my auto loans and I'm earning more than I thought was possible with Benefits Checking. I tell everyone there really IS a difference at Honor Credit Union. Make the switch. Trust me, you'll be glad you did!"
"I'm proud to belong to Honor Credit Union. I've been a member for a few years now and I honestly couldn't be happier. It's so refreshing to work with a group that truly respects and cares about each of its members."
"The day I opened my Honor Credit Union account they found a way to save me around $100 a month instantly. I did not expect that. About a year later, I took advantage of one of their credit card transfer deals and saved my self an additional $140 a month for a whole year. I'm kicking myself for not making the switch to Honor Credit Union sooner."
"I had an appointment to close out my deceased father's account. Leah was friendly, efficient, empathetic, and everything went incredibly smoothly. I had a variety of small transactions to complete before the closure and she sorted those out quickly to my benefit. I always find the staff here to be very pleasant and accomplished."
Use the calendar below to schedule an appointment with a team member at this location to address specific questions and concerns about your account. By booking an appointment, you can avoid waiting in our lobby for the next available Honor team member.
Here are answers to some common questions about our reopening process.
All of our member centers are open to serve you under the following hours:
Lobby Hours:
Monday, Tuesday, Thursday: 9:00 am – 5:00 pm
Wednesday: 10:00 am – 5:00 pm
Friday: 9:00 am – 5:30 pm
Saturday: Closed
Drive-Thru Hours:
*Please Note: The Battle Creek Helmer, Berrien Springs, Decatur & South Haven member centers are closed on Saturdays.
To ensure the safety of all parties, members can expect to see the following measures in place the next time a visit is made at their nearby Honor member center:
Sneeze Guards –Plexiglass barriers will be installed at teller windows and most member specialist offices.
Masks / Face Coverings – To comply with Executive Order 2020-147, members are required to wear a face covering while inside any Honor member center location. We continue to offer many other mask-free ways to serve you including online banking, mobile app, drive-thrus, ATMs, or call or text us at 800-442-2800.
Social Distancing – Please use the floor markings to maintain at least six feet from others while inside when possible. 
Occupancy Limits – We ask that you please limit yourself to only the person(s) necessary to perform the transaction. We reserve the right to limit the lobby occupancy if needed.
Yes, in accordance with Executive Order 2020-147, beginning Monday, July 13th, all members must wear a face covering while inside the member center. Executive Order 2020-147 is available here for your reference as certain exceptions are listed in section 2 of the order.
Honor team members will be wearing face masks.
If you've left your mask at home, that's no problem – we offer a variety of mask-free ways to interact with us and manage your money. Simply visit us at our drive-thru or utilize online and mobile banking to access your account, deposit checks, pay bills, and more.