Honor Celebrates Jenison Member Center Ribbon Cutting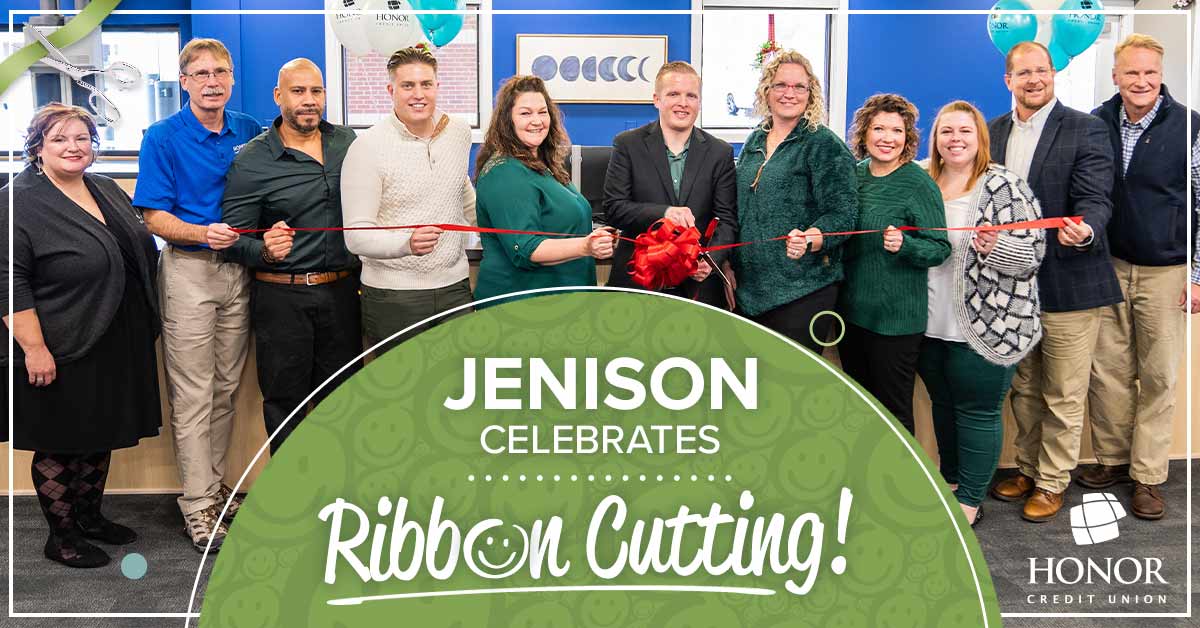 JENISON, MICHIGAN – NOVEMBER 23, 2022 – Honor Credit Union celebrated the official ribbon cutting of its new Jenison Member Center on Friday, November 18th. Honor CEO Scott McFarland kicked off the celebration with a welcome and recognition of those in attendance, including Randy O'Neil, representing the Honor Board of Directors, and those who helped bring this member center to fruition.
"Honor is very excited to be here in a new community," commented McFarland. "We're looking forward to serving the people of Jenison and a bright future ahead!"
Following words from McFarland was Member Center Manager Drew Peppel. Peppel spoke on the excitement of growing up in the Jenison community and now bringing the credit union difference to the area and its members with the addition of this full-service Honor location.
Georgetown Charter Township Supervisor Jim Wierenga represented the Jenison community and welcomed Honor Credit Union to the area. He commented, "We love seeing people who take risks and serve the community." With like-minded values of serving its communities, Honor looks forward to working with the township for years to come and the partnerships ahead.
After the official ribbon cutting, guests enjoyed lunch from business member, Lombardo's Pizza, and complimentary Honor goodie bags with desserts from local business Lotsa Love Bakery. Ribbon-cutting ceremony attendees included Honor's Commercial Loan Officer James McLaughlin, Mortgage Loan Originator Jon Rodriguez, VP of Member Experience Jennifer Patrick, Member Experience Manager Amy Cook, Member Center Manager Drew Peppel, his team in Jenison, and community members.
Located at 1963 Baldwin St in Jenison, Michigan, this full-service location offers an array of financial needs from checking accounts, first mortgages, commercial lending, ATM access, and more. Honor invites you to stop by the Jenison Member Center, which is open to members during the following business hours:
LOBBY
Mon – Tues – Thurs
9:00 AM – 5:00 PM
Wednesday
10:00 AM – 5:00 PM
Friday
9:00 AM – 5:30 PM
Saturday
Closed
DRIVE-THRU
Mon – Fri
8:00 AM – 6:00 PM
Saturday (ATM Live Teller Only)
9:00 AM – 12:00 PM
ABOUT HONOR CREDIT UNION
Honor Credit Union is a non-profit, full-service financial institution serving over 100,000 members in 28 member center communities throughout western and northern Michigan.
Providing solutions for financial success and giving back to the communities we serve remain the driving forces behind Honor Credit Union.  For more information, call 800.442.2800, or visit www.honorcu.com.
###
MEDIA CONTACT
Kayla Smith
Brand Coordinator
kasmith@honorcu.com
800.442.2800 ext. 9205
Allendale will be led by Abbey Vaughan, Jenison will be led by Drew Peppel, and our Wyoming location will be led by Michelle Geoffroy.