Honor Announces New Management For Grand Rapids Member Centers
GRAND RAPIDS, MICHIGAN – SEPTEMBER 12, 2022 – Honor Credit Union is thrilled to unveil new leadership for its Grand Rapids member center locations. Allendale will be led by Abbey Vaughan, Jenison by Drew Peppel, and our Wyoming location by Michelle Geoffroy. Honor will welcome its new Allendale and Jenison locations to the Grand Rapids Market this Fall.
The Member Center Manager is responsible for leading the daily operations of the member center and its team and providing solutions to members and initiatives that support Honor's member promise.
Abbey Vaughan brings 14 years of financial experience, 11 years in the credit union industry, four in a leadership role, and a degree from Kalamazoo Valley Community College. Originally from Three Rivers, Michigan, she relocated to the Kalamazoo area 13 years ago before moving to Grand Rapids in 2018. She now calls Grand Rapids "home" and loves the communities and events within the growing city. Outside of work, Abbey is a full-time caregiver to her mom, and they enjoy exploring Grand Rapids and supporting local business owners.
"I'm excited to get to know the Allendale communities' needs to impact as many lives as possible positively. I am passionate about women-owned businesses, advocating for the underserved, and spreading kindness wherever I go. I look forward to sharing Honor CU's culture and commitments while providing solutions and resources for financial success."
Drew Peppel, born and raised in Jenison, Michigan, will lead the Jenison Member Center. Peppel attended Grand Valley State University and came to Honor Credit Union with over seven years of experience in the financial industry. He and his wife currently reside in Jenison, have one daughter, and are expecting their second child this Fall.
Drew looks forward to building the Honor brand in the Grand Rapids Market and getting involved in the communities. "While the Jenison community is new for Honor, I have lived here almost my entire life," stated Peppel. "I am very excited to bring my knowledge of the Jenison and Grand Rapids areas to Honor and help us continue to grow as an organization!"
Michelle Geoffroy will lead the Wyoming Member Center, which opened in October 2021. Michelle brings over 20 years of experience in the financial industry. Geoffroy grew up in Holland, Michigan, and recently moved to Grandville, Michigan.
"I look forward to bringing our community a fresh view on the credit union experience, both in the member center and offsite at events, showing members Honor truly cares about making a difference in their lives," stated Geoffroy. "I am passionate about helping people become financially successful and making finances easy to understand."
To find an Honor location near you, please visit our website at honorcu.com/locations and stay tuned for our official Allendale and Jenison Member Center openings coming soon.
ABOUT HONOR CREDIT UNION
Honor Credit Union is a non-profit, full-service financial institution serving over 100,000 members in 27 member center communities throughout western and northern Michigan.
Providing solutions for financial success and giving back to the communities we serve remain the driving forces behind Honor Credit Union. For more information, call 800.442.2800, or visit www.honorcu.com.
###
MEDIA CONTACT
Kayla Smith
Brand Coordinator
kasmith@honorcu.com
800.442.2800 ext. 9205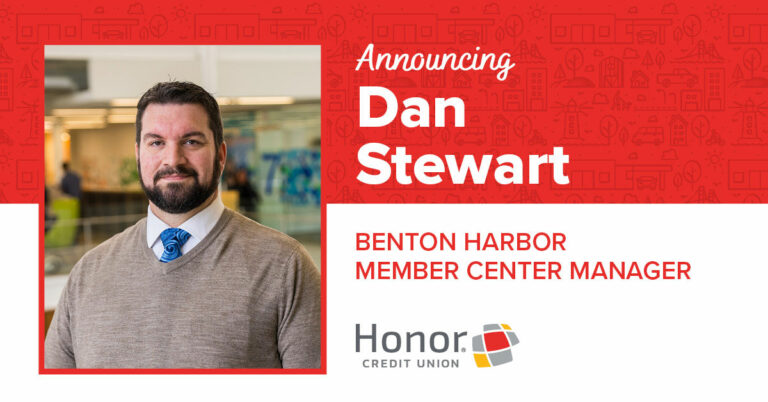 Dan is responsible for leading the daily operations of the member center while providing solutions to members and initiatives that support Honor's member promise.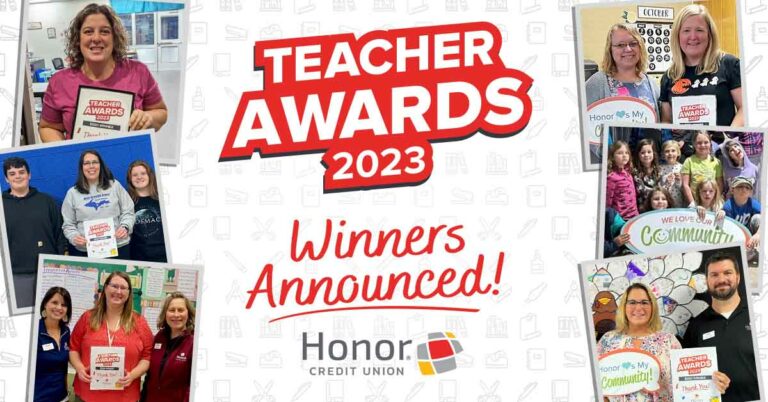 See all educators who received a $500 Amazon digital gift card or $500 check to improve their classroom.