Honor Celebrates Allendale Member Center Ribbon Cutting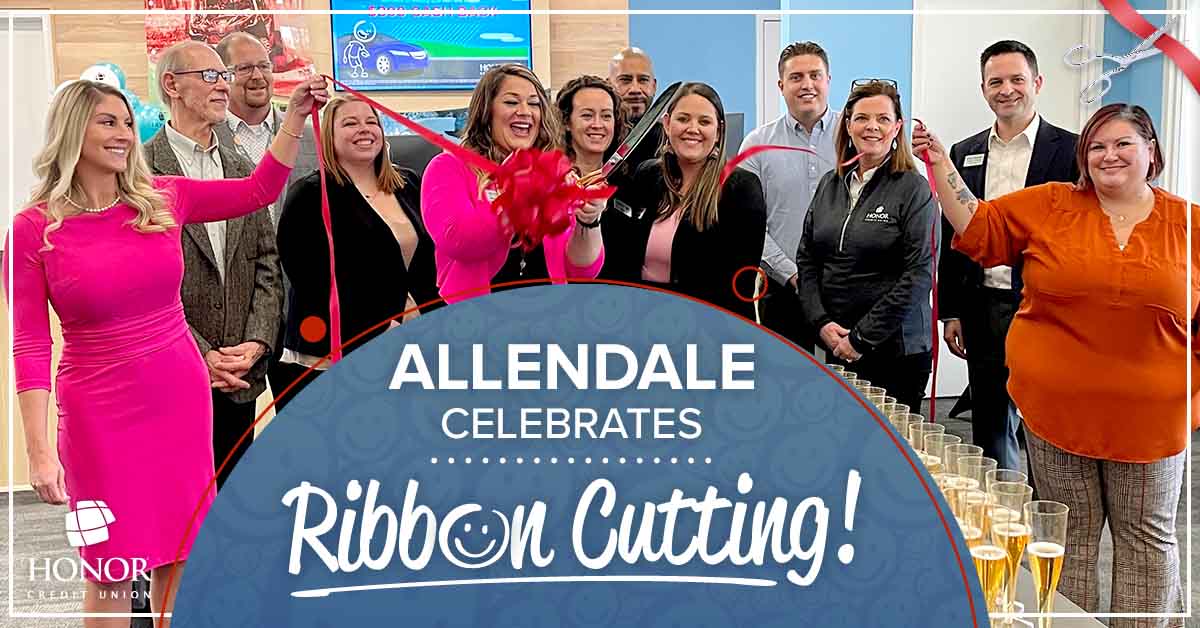 ALLENDALE, MICHIGAN – NOVEMBER 3, 2022 – Honor celebrated the official ribbon cutting of its new Allendale Member Center on Friday, October 28th. Honor CEO, Scott McFarland, and Allendale's Member Center Manager, Abbey Vaughan, began the celebration with a welcome to those in attendance, including Richard Atwell, representing the Honor Board of Directors and members of the Leadership Team present.
Extending his gratitude to the community and the stakeholders who helped make this member center a reality, McFarland commented, "We can't do it without our volunteer board of directors. As a credit union, we know that's what makes us special. We're owned by our members, and our board is a volunteer board. They support our visions of growing in these communities, knowing that financial services are a valuable piece of any community."
McFarland next introduced Member Center Manager Abbey Vaughan, who spoke on what it means to be new to the community, future relationships, providing a positive space, and the joy of being welcomed into Allendale.
Others who spoke at the ceremony included the Executive Director of the Allendale Area Chamber of Commerce, Rebecca Wildeboer, Allendale Charter Township Supervisor Adam Elenbaas, and Michigan State Representative, Luke Meerman.
The theme of community and belonging were of no shortage, as Wildeboer touched on the difference Honor Credit Union makes and the feeling of belonging as you walk in the door. Allendale Charter Township Supervisor Adam Elenbaas echoed these words and commented, "we 'get' to do this every day," describing what it means to create a positive atmosphere and impact in the community.
Following the official ribbon cutting, guests enjoyed lunch from local business, Peppino's of Allendale, complimentary Honor goodie bags, and networking amongst their peers.
Ribbon-cutting ceremony attendees included Honor's Commercial Loan Officer James McLaughlin, Mortgage Loan Originator Jon Rodriguez, Regional Manager Amber Cuvelier, Member Experience Manager Amy Cook, Member Center Manager Abbey Vaughan, her team in Allendale, and several local business owners. 
Located at 6065 Lake Michigan Drive in Allendale, Michigan, Honor's Allendale Member Center is open to members during the following business hours:
LOBBY
Mon – Tues – Thurs
9:00 AM – 5:00 PM
Wed
10:00 AM – 5:00 PM
Fri
9:00 AM – 5:30 PM
Sat
Closed
DRIVE-THRU
Mon – Fri
8:00 AM – 6:00 PM
Saturday
9:00 AM – 12:00 PM
ABOUT HONOR CREDIT UNION
Honor Credit Union is a non-profit, full-service financial institution serving over 100,000 members in 28 member center communities throughout western and northern Michigan.
Providing solutions for financial success and giving back to the communities we serve remain the driving forces behind Honor Credit Union.  For more information, call 800.442.2800, or visit www.honorcu.com.
###
MEDIA CONTACT
Kayla Smith
Brand Coordinator
kasmith@honorcu.com
800.442.2800 ext. 9205
Allendale will be led by Abbey Vaughan, Jenison will be led by Drew Peppel, and our Wyoming location will be led by Michelle Geoffroy.