Honor Announces New Leadership Promotions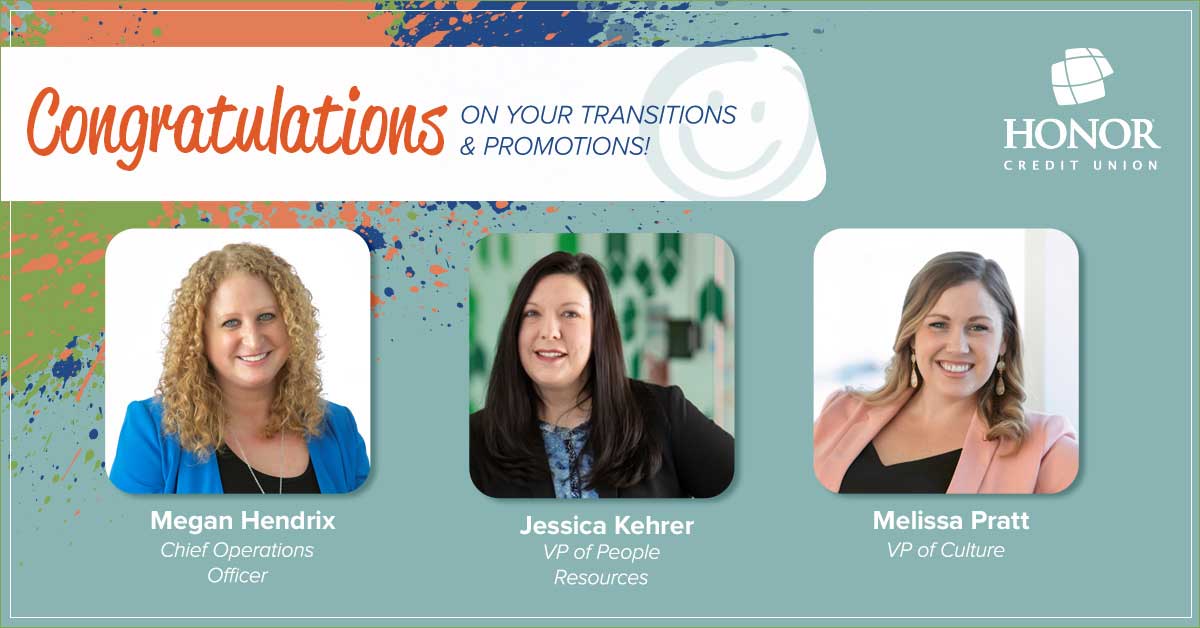 BERRIEN SPRINGS, MI – March 5, 2021 – Honor Credit Union is thrilled to unveil new leadership positions with three internal promotions. Megan Hendrix was named Chief Operations Officer, Jessica Kehrer was named Vice President of People Resources, and Melissa Pratt was named Vice President of Culture.
Megan Hendrix resides in Baroda and will serve as Honor Credit Union's Chief Operations Officer. Hendrix holds an associate degree in business from Lake Michigan College, a bachelor's degree in business with a focus in project management from Capella University, and is also a CAPM (Certified Associate in Project Management). She has served in numerous roles throughout her 15 years as an Honor Team Member ranging from Teller to, most recently, VP of Operations. She and her husband, Paul, have one son. In her free time, Hendrix enjoys gardening, kayaking, and spending time with their family's furry friends.
In her new role, Hendrix will strive to understand and actively engage with an ever-changing, complex environment while identifying opportunities as well as disruptors. She will lead the planning, development, implementation, and evaluation of strategic business and performance goals including payments, operations, and innovation technology. "One of my goals is to scale our operations model to improve efficiencies to better serve members," stated Hendrix. "I am excited to continue finding faster ways to serve members when, where, and how they want to be served. I hope to increase each member's relationship with us and create a financially-sound cooperative."
Jessica Kehrer has been a member of Team Honor since 2010. Originally from Dowagiac, she was promoted to the role of VP of People Resources. Kehrer earned a bachelor's degree in business administration with a major in human resource management from Central Michigan University and is an SHRM (Society for Human Resource Management) Certified Professional. She brings over 17 years of retail banking and human resources experience to her position. Kehrer enjoys volunteering and has previously served as the President of Big Brothers Big Sisters of Lower West Michigan as well as Secretary/Treasurer for the Dowagiac Optimist Club. She and her husband, Jerry, have one daughter, three dogs, and one horse. In her free time, she loves to travel, spend time with friends and family, and attend her daughter's horse shows.
In her new role, Kehrer will be responsible for the leadership and management of the credit union's people-related functions to confirm compliance with local, state, and federal laws and regulations. She will ensure that Team Honor is taken care of as it relates to hiring, performance management, payroll, benefits, and other traditional HR functions. "While leading the Human Resource and Talent Acquisition Teams, my goal is to continue to keep 'People First' top of mind in all strategic decisions. I look forward to elevating our team and continuing to focus on the Honor difference in all we do," stated Kehrer. "The Honor Team has an important impact on our members and the communities we serve. One of my favorite quotes is 'Great work is done by people who are not afraid to be great.' I am truly looking forward to the future and continuing to make a difference."
Melissa Pratt, who previously worked as Honor's Executive Team Manager, has transitioned to her new title of VP of Culture. Pratt holds a bachelor's degree in education from Michigan State University and is also an SHRM Certified Professional. She lives in St. Joseph with her husband, RJ, daughter, and two dogs. In her free time, Pratt enjoys being with her family and friends, playing outdoors, and introducing her daughter to new experiences.
Pratt has been a member of Team Honor since 2017. As the VP of Culture, she will ensure Honor has the internal leadership, engagement practices, and change management culture in place to achieve the Member Promise of Providing Solutions for Your Financial Success. She will strive to make sure Honor Credit Union leads with people decisions over process or profit. "I'm proud to work for an organization that truly puts people first and ensures our members and team are at the forefront of all decisions. I'm thrilled to continue building a strong culture that is focused on aligning our core values and our 'why' to create a positive and purposeful work environment," stated Pratt.
Honor Credit Union is proud to serve more than 90,000 members across the State of Michigan.  Providing solutions for your financial success and giving back to the communities we serve remain the driving forces behind Honor Credit Union.  For more information, call 800.442.2800, or visit www.honorcu.com.
###
MEDIA CONTACT
Halee Niemi
Brand Manager
hniemi@honorcu.com
800.442.2800 ext. 9501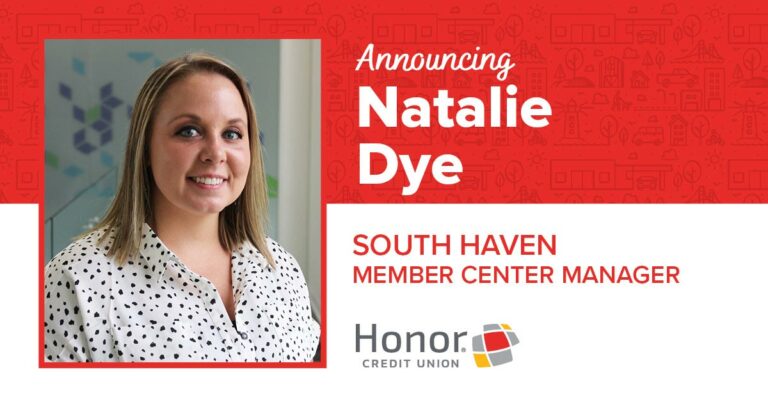 Natalie is responsible for leading the daily operations of the member center, while providing solutions to members and initiatives that support Honor's member promise.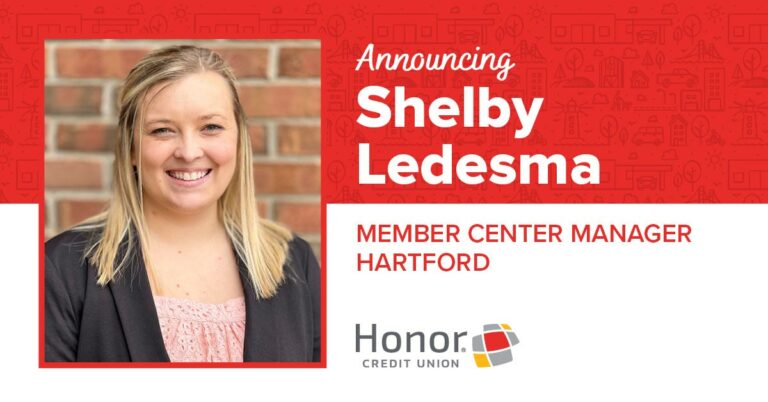 Shelby is responsible for leading the daily operations of the member center, while providing solutions to members and initiatives that support Honor's member promise.