Honor Announces Final Numbers from 2022 Community Shred Days
BERRIEN SPRINGS, MICHIGAN – OCTOBER 13, 2022 – Honor Credit Union hosted ten free community shred days across its 27 member center communities, and are excited to share its 2022 Shred Day successes. In partnership with Data Guardian and the Marquette County Landfill, a total of 67,629 pounds of paper was collected and shredded to reduce the amount of waste in our communities.
67,629 Total Pounds Shredded
These events are free and open to members and non-members to promote the protection of personal information by destroying confidential documents through a recycling service. This service aligns with Honor's commitment to supporting a green initiative through a handful of digital services it offers its members, such as mobile banking and e-statements.
The 2023 Free Community Shred Day schedule will be released early next year.
ABOUT HONOR CREDIT UNION
Honor Credit Union is a non-profit, full-service financial institution serving over 100,000 members in 27 member center communities throughout western and northern Michigan.
Providing solutions for financial success and giving back to the communities we serve remain the driving forces behind Honor Credit Union. For more information, call 800.442.2800, or visit www.honorcu.com.
###
MEDIA CONTACT
Kayla Smith
Brand Coordinator
kasmith@honorcu.com
800.442.2800 ext. 9205
Honor hosted 10 free shred days across its communities in 2021, and shredded a total of 76,750 pounds of paper.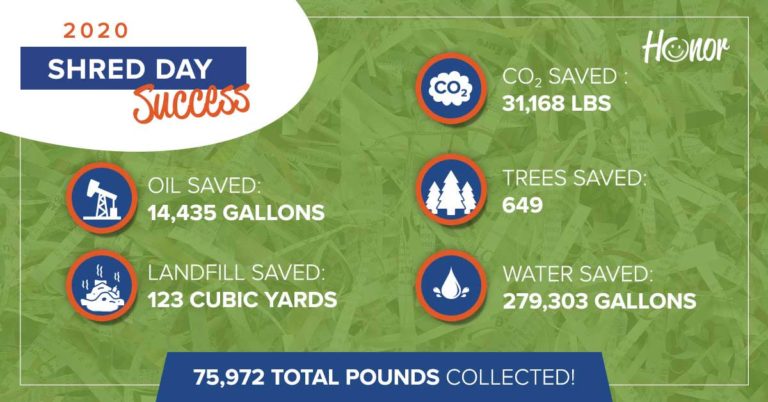 A total of 75,972 pounds of paper was shredded at 11 community shred events. Learn about the environmental impact the shred day initiative had in 2020.