Veterans Day Observed With Video Series & Large Donation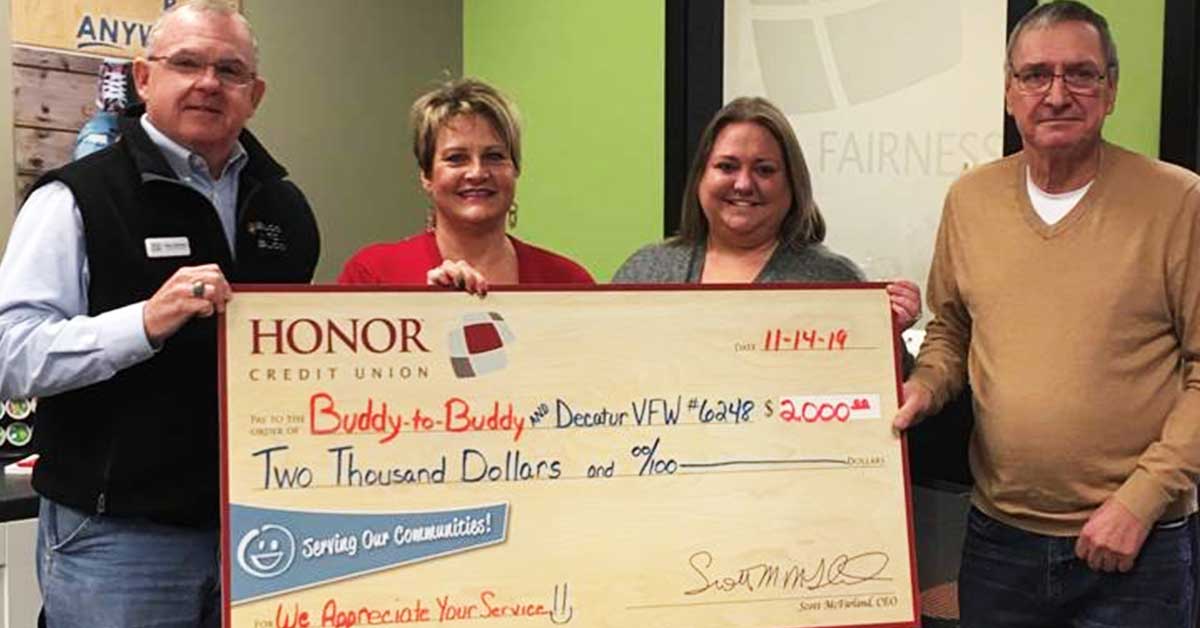 DECATUR, MI – Nov. 14, 2019 – To commemorate Veterans Day this year, Honor Credit Union released a mini video series featuring interviews of members who proudly served in the American Military. The three interview subjects provided first-hand perspectives from separate conflict locations throughout the world and shared advice for those currently serving.
One of the Veterans featured in the videos is Decatur native, Fred Turk. Turk is the Post Commander of the Decatur VFW Post 6248 and served with the 1st Cavalry Division in the Republic of South Vietnam in 1967-68. He was drafted into the Army for a two-year enlistment shortly after finishing high school and was placed in an 81-MM mortar platoon in the infantry. "Everybody knew they were going to get a draft notice. You just waited for your number to come up," Turk reflected.
VIDEO SERIES: Watch the video series highlighting military veterans
During the interview, Turk provided a captivating account of battle conditions during the Vietnam War and reflected on the life-changing impact it had on the soldiers both during their time in active duty and upon their return to the United States.
At the end of the video, Turk discussed his involvement in the Buddy to Buddy organization, a peer-to-peer program that trains volunteer veterans to provide support and linkage to resources for Michigan service members and veterans. "We're a referral group, and if some veteran needs help in anything – finances, (housing) whatever it might be, we refer them to people that can take care of them," he explained.
Upon learning about this donor-funded organization, team members at Honor were moved to provide a $1,000 donation to the group to help in their mission. In addition, a few days after Honor CU conducted the interview of Turk at the Decatur VFW, the building was damaged by a fire and closed for repairs, resulting in the postponement of their annual Veterans Day dinner.
As a local partner, Honor wanted to help with the cost of the repair by donating an additional $1,000 directly to the VFW.  Jami Swihart, Honor's Decatur Member Center Manager, reflected, "Decatur is a small village, and we all pull together when tragedy strikes. The VFW post is a landmark and gathering place for many residents, and we wanted to do our part to help in the rebuilding efforts."
Honor Credit Union is proud to serve more than 85,000 members across the State of Michigan.  Providing solutions for your financial success and giving back to the communities it serves remain the driving forces behind Honor Credit Union.  For more information, call 800.442.2800 or visit www.honorcu.com.
###
MEDIA CONTACT
Stacey Dodson
Brand Manager
sdodson@honorcu.com
800-442-2800, ext. 9326
Veterans Day Video Series
To commemorate Veterans Day, we wanted to honor the brave men and women of the American military by telling the stories of three of our members who proudly served in three different areas of the world. Here are their stories.
Fred Turk, Army, Vietnam War
Hollie Kirk, Army, Gulf War
Tim Miner, Army, Korea