Honor CU Welcomes Three New Associate Board Directors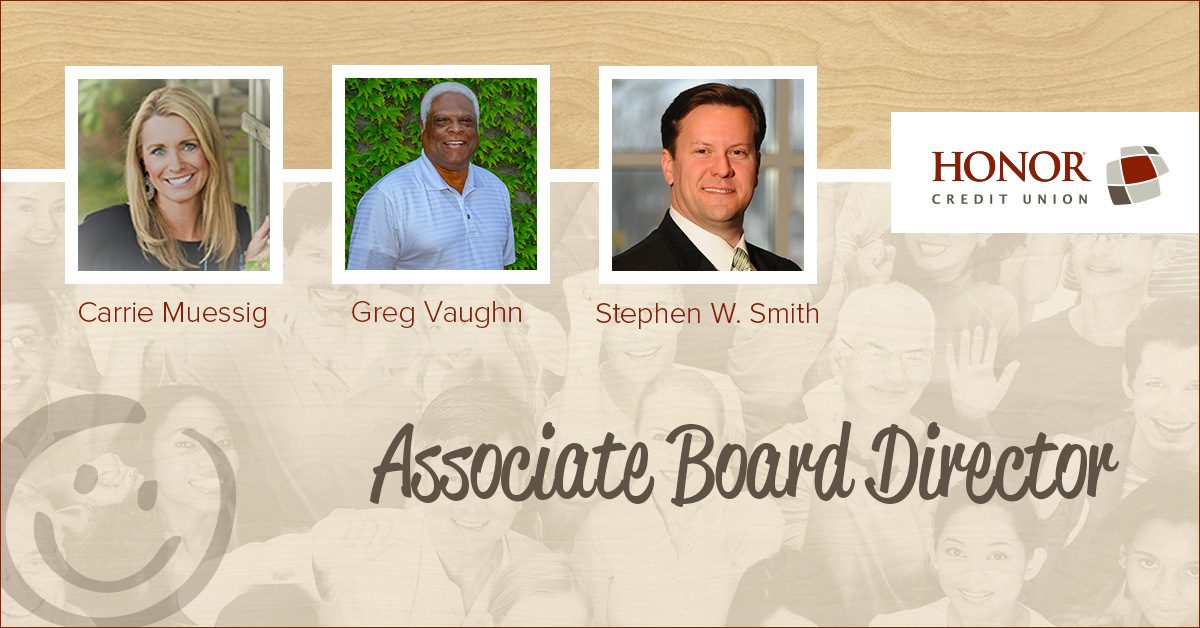 BERRIEN SPRINGS, MICHIGAN – July 1, 2019 – Honor Credit Union is excited to welcome three new Associate Board Directors to further expand the scope of oversight and knowledge to its Board of Directors. Stephen W. Smith, Carrie Muessig and Greg Vaughn bring a wealth of knowledge and diversity of background to the board that will contribute to the forward-thinking mindset of the credit union.
"It truly is an honor to welcome Carrie, Greg and Stephen as the new Associate Board Directors," commented Honor's CEO, Scott McFarland. "They all bring different perspectives, knowledge and insight to their new positions and I look forward to seeing the positive impact they make on our organization and communities."
Stephen W. Smith is a Senior Attorney with the St. Joseph law firm of Foster Swift Collins & Smith, PC. Originally from Coloma, Michigan, Smith lives in St. Joseph, Michigan with his wife, Gina, and three children. Smith is a member of the Berrien County Land Bank Authority, Member of the Board of Directors of the Berrien County Historical Association, the past President of the Rotary Club of St. Joseph-Benton Harbor and former board member for several local non-profit organizations.  He brings more than two decades of legal and professional knowledge to the board as well as a lifetime of experience as a native of Southwest Michigan.
Carrie Muessig, a former Kindergarten through 8th grade teacher, retired from Dowagiac Union Schools after 25 years and served on the Michigan Reading Association as a board member for 9 years. Muessig currently resides in Paw Paw, Michigan with her husband of 22-years, Patrick, and their two children, Claudia and Brenden. As an Associate Director for Honor's Board of Directors, Muessig will utilize her passion for forming and growing relationships to promote the growth of the credit union and cement the foundation of providing financial services to the communities Honor Credit Union serves.
Greg Vaughn serves as Chief Operating Officer and Vice President of Business Development at Cornerstone Alliance in Benton Harbor, Michigan, where he lives with his wife, Janice. Vaughn has served as a member on eight boards throughout Berrien County and is committed to bringing economic prosperity to Michigan's Great Southwest. As an Associate Director for Honor's Board of Directors, Vaughn will serve as an ambassador of Honor in the community and will continue to present new perspectives to the board in support of Honor's strategic priorities.
Honor Credit Union is proud to serve more than 85,000 members across the State of Michigan.  Providing solutions for financial success and giving back to the communities it serves remains the driving forces behind Honor Credit Union.  For more information, call 800.442.2800, or visit www.honorcu.com.
###
MEDIA CONTACT
Halee Niemi
Public Relations Specialist
hniemi@honorcu.com
800-44-2800, ext. 9501