$5,000 Donated To United Way After Leadercast Live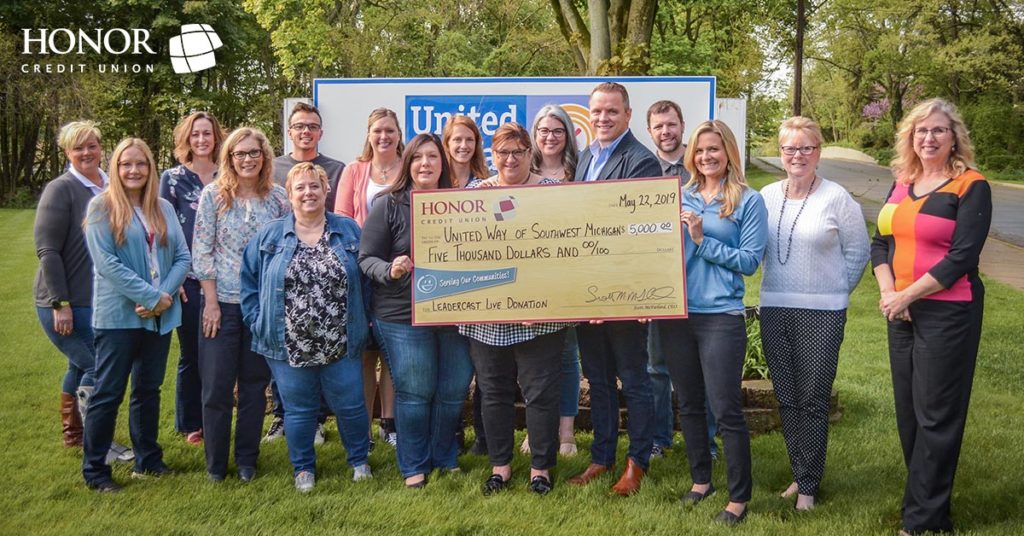 ST. JOSEPH, MICHIGAN – May 24, 2019 – As anyone in the financial sector will tell you, delivering "the big check" to a worthy organization never loses its excitement. And when the donation is the result of a leadership event designed to give back to the community, the delivery is even sweeter.
Team Members from Honor Credit Union presented the United Way of Southwest Michigan with a $5,000 donation on Wednesday to round out the final step of hosting Leadercast Live 2019. Honor CU brought Leadercast Live, the world's largest one-day leadership simulcast event, to Southwest Michigan on May 18 by serving as a host site in St Joseph. Funds raised from ticket sales for the event were donated to United Way to support their involvement in the four impact areas of education, income, health, and basic needs.
Over a hundred leaders representing businesses and organizations from a wide variety of sectors including healthcare, finance, non-profit, education, and technology attended the event at Shadowland Ballroom to learn about "Leading Healthy Teams." The speakers for the event included: Andy Stanley of North Point Ministries, Carla Harris of Morgan Stanley, Ginger Hardage of Southwest Airlines, Patrick Lencioni of The Table Group, and Gayle King of CBS This Morning. In addition to the speaker sessions, the Honor Team led the attendees in group discussions and team building exercises.
The idea to bring Leadercast Live 2019 to Southwest Michigan was a collaboration among three Honor Team Members – Charley Shasky (Organizational Development Manager), Jessica Kehrer (Human Resources Manager), and Stacey Carlin (Communication and Brand Manager). The team viewed Leadercast Live as a way to bring the top minds and strategies in team development to an audience of leaders responsible for building healthy teams in Southwest Michigan.
"We wanted to provide a forum where leaders from all backgrounds could collaborate on how best to create positive impact both within their organizations and beyond," commented Shasky. "It was amazing to witness the dynamic discussions taking place in the room between people who are committed to driving growth and are passionate about giving back to an organization dedicated to the overall health of our community."
Team Honor is already looking ahead to Leadercast Live 2020 and will share details on date and location early next year.
Honor Credit Union is proud to serve more than 85,000 members across the State of Michigan.  Providing solutions for financial success and giving back to the communities it serves remains the driving forces behind Honor Credit Union.  For more information call 800.442.2800, or visit www.honorcu.com.
###
MEDIA CONTACT
Stacey Carlin
Community and Brand Manager
scarlin@honorcu.com
800-442-2800, ext. 9326