Karol Behrle Announced As Community Assistant VP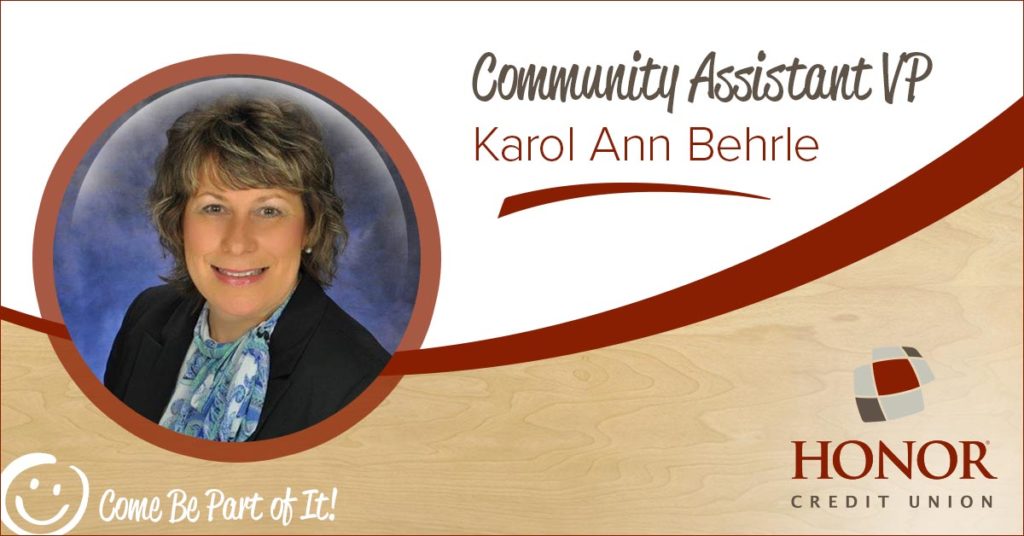 BERRIEN SPRINGS, MICHIGAN – May 30, 2019 – Honor Credit Union is excited to announce the internal promotion of Karol Ann Behrle. Formerly serving as Member Center Manager, Behrle recently accepted the role of Community Assistant Vice President for the Berrien Springs, Buchanan, and Harbor Country area.
Born in Wurzburg, Germany, Behrle grew up in Southwest Michigan and graduated high school from Michigan Lutheran High School in St. Joseph. She currently resides in Buchanan, Michigan with her husband, Chris, 19-year-old daughter, Lucie, and two German Shepherds, Liesel and Schatzi.
Behrle brings over nine years of experience in the credit union industry to this new position and began her career at Honor Credit Union in 2017 as the Berrien Springs Member Center Manager. After assisting in opening Honor's 25th member center in Buchanan in February 2019, Karol transitioned to dual management of both the Buchanan and Berrien Springs Member Centers.
As part of the Member Experience Team, the Community Assistant Vice President works closely with Honor's Member Center Managers, Business Services, and Real Estate teams to create relationships, serve the community, and act as a connector to provide members with financial solutions for success. As a CAVP, Karol will be heavily involved in supporting community organizations and building business partnerships.
"Being from Southwest Michigan, I'm excited to have the opportunity to create lasting business relationships in my market," commented Behrle. "At Honor, we are committed to partnering with our members by truly being part of the communities we serve."
Honor Credit Union is proud to serve more than 85,000 members across the State of Michigan.  Providing solutions for financial success and giving back to the communities it serves remains the driving forces behind Honor Credit Union.  For more information call 800.442.2800, or visit www.honorcu.com.
###
MEDIA CONTACT
Halee Niemi
Public Relations Specialist
hniemi@honorcu.com
800-442-2800, ext. 9501