Jenni Cordova Announced As Community Assistant VP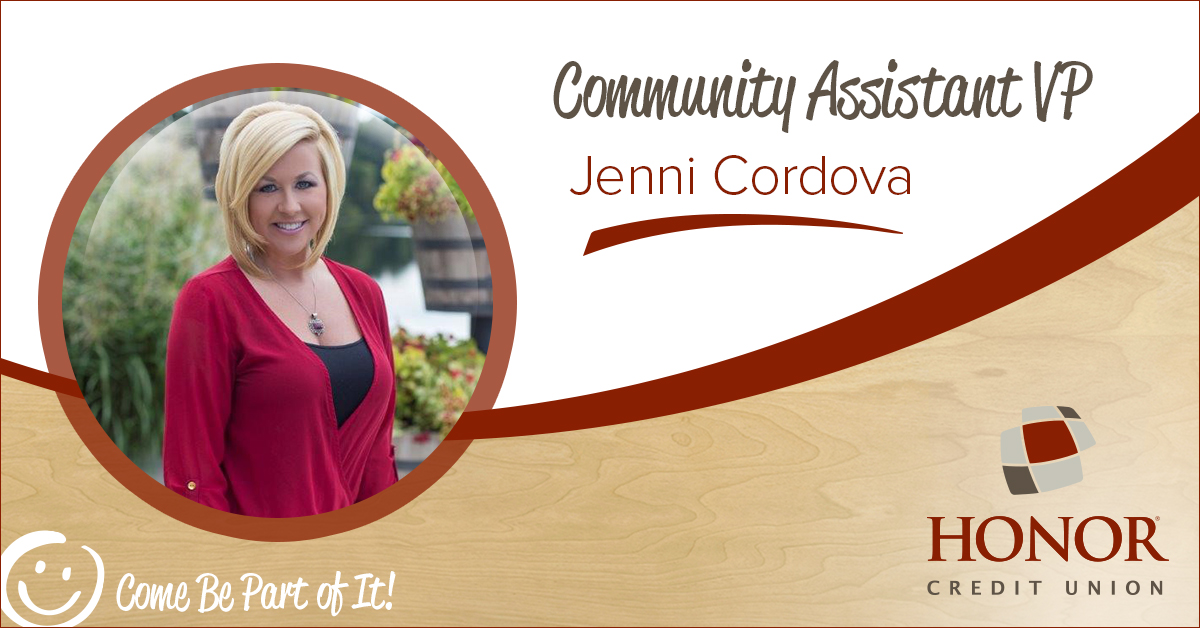 BATTLE CREEK, MICHIGAN – July 11, 2019 – Honor Credit Union is excited to announce the hire of Jenni Cordova. Cordova recently accepted the role of Community Assistant Vice President for the Battle Creek area.
Originally from Battle Creek, Michigan, Jenni Cordova currently resides there with her son, Kobe. She comes to Honor with an associate degree from Kellogg Community College and has experience working in the financial industry as a Mortgage Loan Originator and a credit union Branch Manager.  When she is not attending Chamber of Commerce or the Battle Creek Area Association of Realtors (BCAAR) committee meetings, Cordova enjoys making memories with her family and spending time on the boat in South Haven.
As part of the Member Experience Team, the Community Assistant Vice President works closely with Honor's Member Center Managers, Business Services, and Real Estate teams to create relationships, serve the community, and act as a connector to provide members with financial solutions for success. As a Community Assistant Vice President, Cordova will be heavily involved in supporting community organizations and building business partnerships.
"My new position at Honor will allow me to continue to benefit the lives of those in my community by providing the steps and solutions to achieve financial success," commented Cordova. "As I continue to develop and strengthen partnerships, I look forward to becoming the one-stop shop girl for my community's financial needs and having the opportunity to contribute to the growth of the credit union."
Honor Credit Union is proud to serve more than 85,000 members across the State of Michigan.  Providing solutions for financial success and giving back to the communities it serves remains the driving forces behind Honor Credit Union.  For more information, call 800.442.2800, or visit www.honorcu.com.
###
MEDIA CONTACT
Halee Niemi
Public Relations Specialist
hniemi@honorcu.com
800-442-2800, ext. 9501