Get Rewarded To Learn About Finances
We're committed to helping you learn about finances, and to helping you make the best decisions for your financial success. That's why we are happy to share Zogo with you! It's a fun interactive mobile app to learn and increase your knowledge of financial literacy. The best part is you earn rewards, like $5, $10, and $15 gift cards from your favorite brands the more you play! Get started today by downloading the app and earn while you learn.
We want you to have the skills and confidence to manage your money and reach your financial goals. Zogo is a fun and convenient mobile app for all ages that you can pick up and play anytime. It's a great way to help you learn and build your confidence by reimagining how we learn about financial topics. The best part is you earn rewards in the form of gift cards the more you play!

Designed for individuals 13 and older, the Zogo app engages you with interactive content and easy to understand questions to encourage continued learning well beyond classroom walls! What you learn can be applied to everyday financial situations.

Earn rewards, which can be redeemed for gift cards from popular brands, when you answer questions correctly in the 300+ bite-sized educational modules, by participating in the daily "Pineapple Party," or by referring friends on the app.
Did you know more than two-thirds of American live paycheck-to-paycheck, almost a quarter of Americans aren't saving money for a future goal, and a third of Americans don't have an emergency fund? Managing your money doesn't have to be intimidating when you have confidence to pursue your financial goals. Zogo empowers you to increase your financial literacy by breaking down what you learn into over 300 bite-sized educational modules.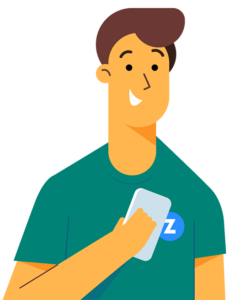 (Click an image to enlarge)