We're Temporarily Shifting To Regional Member Center Hubs
Dear Members,
As we continue to navigate the rapidly changing landscape of this ongoing pandemic, we wanted to take a moment to thank you for your continued flexibility as we've shifted the way we serve you to comply with government regulations and public health recommendations. Your continued patience and adaptability is appreciated as we all work through this together. With a spirit of creativity, we remain committed to partnering with you throughout the peaks and valleys of 2020 and beyond.
As a member-owned organization, transparent communication is of the utmost importance. We do our best to keep you informed of any changes, in real-time and on multiple channels. As we approach the fall, there are still many unknowns that have the potential to further disrupt the normalcy of life.
Plainly stated, the trickle-down effect of school closures, governmental restrictions, and rising infection rates impacts us all. We will get through it, but we may need to put on our ingenuity hats for the next few months. Our team members go to the same grocery stores, live in the same neighborhoods, and send their kids to the same schools you do – so we are taking a proactive approach for what additional disruptions might mean for our physical locations and our team.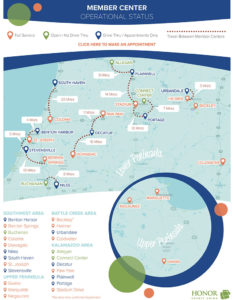 Effective Monday, August 24, we are temporarily moving to a Regional Hub model for our physical locations until further notice. The Regional Hub model will reflect a balance of member center locations that are open for full-service along with other locations open for drive-thru and by appointment only. 
Our goal is to make sure you are never too far away from a full-service location in the event that in-person service is preferred for more complex transactions.
Please reference the following list to determine the impact of this shift in service to your member center location:
Full Service Locations
Full Service Locations without Drive Thru
Drive Thru/Appointment Only Locations
While we realize this arrangement is not ideal, we appreciate your understanding as we believe this model will allow us to maintain the consistent and reliable service you've come to expect from Honor. You remain our top priority, and we are committed to always finding a way to serve your financial needs.
As a reminder, our self-service options allow you to access your money whenever, wherever, and however you desire. With online banking and our Honor mobile app, you can manage your accounts from the comfort of home or while on-the-go. Our network of ATMs are available for 24/7 financial transactions, and our Virtual Member Center is always ready to take your call or answer your text at 800-442-2800 during extended business hours of 8am-8pm, Monday thru Friday, and 9am-12pm on Saturday.
We were here before COVID-19, we've been here throughout the crisis, and we will be here for you long after it's over. We are ready for whatever comes our way with a plan that continues to take care of each other so we can take care of you.
Thanks for being a member,

Sara Buursma
VP of Member Experience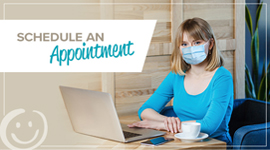 While not all our lobbies are fully open using this new model, all are available on an appointment-only basis, which can be easily reserved online.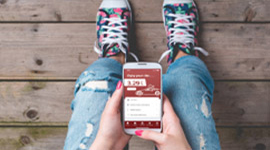 One of the many features of the Honor mobile app is Mobile Check Deposit. Use your smartphone or tablet to deposit a check simply by snapping a picture!